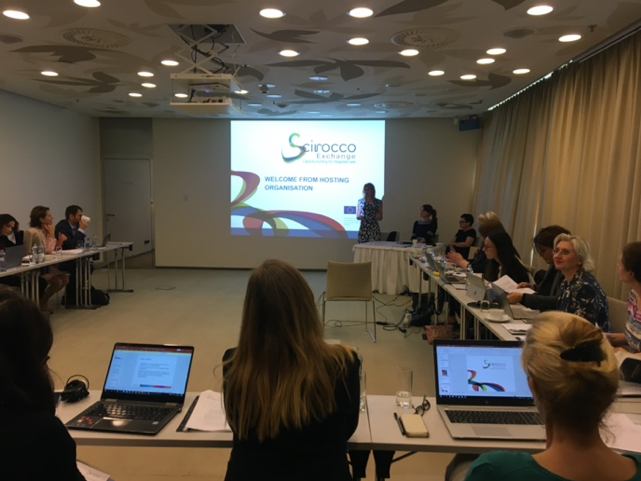 31 October 2019
SCIROCCO Exchange First Project Assembly Meeting
The first SCIROCCO Exchange Project Assembly meeting took place in Kosice, in Slovakia on 23rd and 24th October 2019, hosted by PJ Safarik University. It was wonderful to meet up everyone and discuss together the progress of the project and upcoming activities.
The objectives of the meeting were to:
Share the preliminary findings of the maturity assessment process in the nine regions;
Inform about the experience of stakeholders in using SCIROCCO Exchange Knowledge Management hub in the maturity assessment process, lessons learned and implications for the further improvement and refinement of the Hub;
Review the progress on the mapping of capacity-building assets for integrated care;
Discuss the methodology and process for the development of SCIROCCO Exchange Knowledge Transfer Programme;
Discuss strategy and approach for the future expansion and exploitation of SCIROCCO tool and SCIROCCO Exchange Knowledge Management Hub.
SCIROCCO Exchange partners were also honoured to be invited by our Slovak colleagues from the PJ Safarik University to participate in and actively promote their integrated care initiatives at the international Conference on Chronic Diseases which took place on 24-25 October 2019.
In the coming months the SCIROCCO Exchange partners will be continuing conducting maturity assessment process, involving more than 150 local stakeholders. The outcomes of the assessment process will inform the maturity of regions in integrated care, their strengths and weaknesses and priorities for the improvement which will be addressed through the SCIROCCO Exchange Knowledge Transfer Programme.
The second Project Assembly Meeting is planned for May 2020 with an objective to share the experience of partners with knowledge transfer activities.
31 May 2022
---
31 May 2022
---
19 April 2022
---
1 March 2022
---
29 October 2021
---