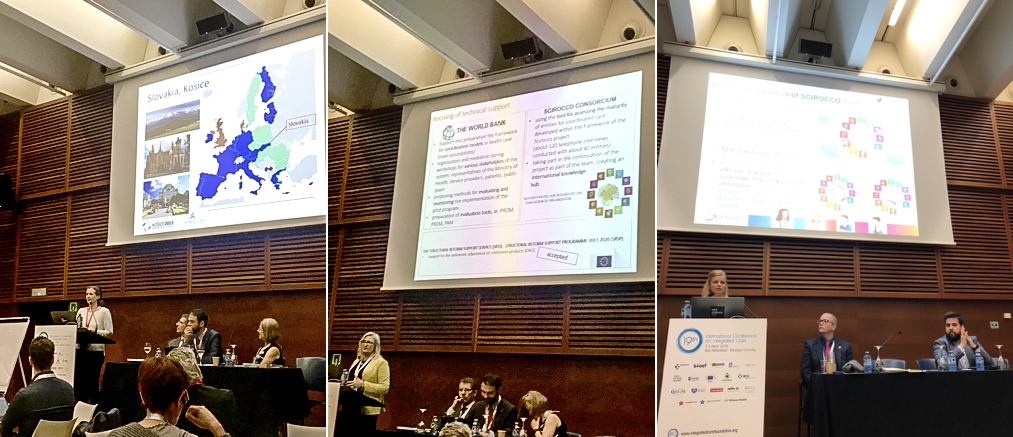 5 April 2019
SCIROCCO Exchange featured at ICIC 2019, San Sebastian, Basque Country
The International Foundation of Integrated Care (IFIC) in partnership with OSAKIDETZA – Basque Health Service, Bioef, Ministry for Health of the Basque Government the City Council of Donostia-San Sebastian and the Provincial Council of Gipuzkoa presented the 19th International conference on Integrated Care "A shared culture for change: Evaluating and implementing models of integrated people-centred services" in the Kursaal Conference Centre, San Sebastian, Basque Country 1 – 3 April 2019. The conference brought together researchers, clinicians and managers from around the world who are engaged in the design and delivery of integrated health and social care.
SCIROCCO Exchange has very actively contributed to the conference by:
engaging in European Commission's session "Capacity-building and technical support for integrated care"; SCIROCCO Exchange was highlighted as one of the capacity-building actions for successful implementation of integrated care, including examples from three regions (Flanders, Slovakia and Poland) on the type of support is required to accelerate the adoption of integrated care in these respective regions;
organising workshop "From self-assessment to knowledge transfer and improvement in integrated care: How to engage voluntary sector in the provision of integrated care"; in collaboration with Kronikgune (Basque Country) and AReSS Puglia (Italy), to share the learning from the use of SCIROCCO tool to facilitate twinning and coaching activities, the outcomes of which informed about the creation of local conditions for the transferability of learning about the engagement of third sector in the provision of integrated care in Scotland;
organising workshop "Enhancing the SCIROCCO tool using quantitative and qualitative methods", in collaboration with University of Edinburgh, University of Valencia and EHTEL, to share the learning about the development of SCIROCCO tool for the purpose of knowledge transfer activities, including quantitative and qualitative methodologies capturing the experiences of users and stakeholders involved;
participating in jointly organised workshop of VIGOUR and Digital Health Europe EU funded projects "Scaling-up integrated care" to explore potential synergies and scope for the future collaborations across all three projects.
To access presentations from the conference please see Resources

For more information about the conference please see the following link: https://integratedcarefoundati...
31 May 2022
---
31 May 2022
---
19 April 2022
---
1 March 2022
---
29 October 2021
---